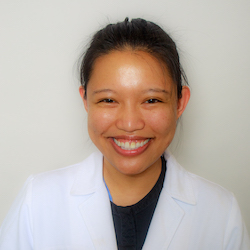 Joana Brown, DMD
Pediatric Dentist
Born in the Philippines but raised in New Jersey, Dr. Joana Brown earned her bachelors degree from The College of New Jersey (TCNJ). She then pursued her Doctorate in Dental Medicine (DMD) from Rutgers School of Dental Medicine, where she developed a passion for treating pediatric patients. Dr. Brown had always loved being around children — having had a much younger sibling whom she spent much time with — so it came as no surprise that this translated into a passion for working with children in the dental setting as well! She pursued a specialty in pediatric dentistry at the NYU Langone Hospital in Brooklyn. Committed to spreading awareness about the importance of dental health and taking preventative measures starting at a young age, she partook in numerous neighborhood and community volunteer events during her time in dental school and residency. Today, she and her husband are enjoying being back in New Jersey, where she enjoys going for runs, watching a sunrise or two with her morning coffee, spending time with her family, and having the simple pleasure of just being at home with her husband and their cats!
Many tots start here
with their first tooth, and grow with us.