Jayati C. Bhattacharyya, DDS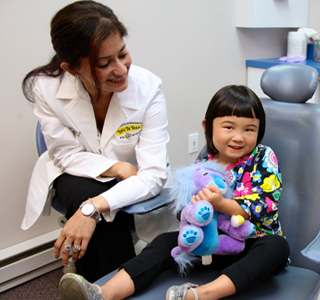 Jayati C. Bhattacharyya, DDS
Pediatric Dentist
Dr. B., as she is known, is the new owner of Tots To Teens & In-Bee-Tween. Dr. B. has been serving our patients for six years. She is a board-certified Pediatric Dentist and completed her dental training at Columbia University School of Dental Medicine. She completed her general practice residency at Mt. Sinai Medical Center in Manhattan and then when on to complete her pediatric dental specialty residency at Montefiore Medical Center, Albert Einstein Medical School. Dr. B. did research concerning periodontics and presented at the International Association of Dental Research. After completing her Pediatric Residency, she was asked to become an Attending for the Pediatric Dental Department at Montefiore. She was distinguished as a Diplomate of the American Board of Pediatric Dentistry in 2007 and certified to use conscious sedation to treat children. Dr. B. is a member of the American Academy of Pediatric Dentistry. She believes in creating a caring, comfortable environment for treating children of all ages. She is married and lives with her husband and two children in Marlboro.
Many tots start here
with their first tooth, and grow with us.