Welcome to Tots To Teens!
We are proud to provide the latest in dental services to Tots To Teens & In-between. Our team offers sedation dentistry, preventive dentistry, orthodontics and more. Patients are our #1 priority. From the initial oral exam throughout the entire treatment you can count on our dentists to attend to all of your children's needs.
Your Child's Appointments
Your time and our time are equally important. For this reason, scheduled appointments are necessary. We pride ourselves on keeping a timely schedule, however, sometimes an emergency appointment can cause a delay. Please note: Cancellations require a 24-hour notice.
Please be considerate so another patient can be appointed. We offer a complimentary first, non-emergency, visit for Tots under the age of 2 with Dr. B or Dr. Lin, as well as a complimentary first orthodontic appointment for Teens with our Orthodontist, Dr. Kapoor.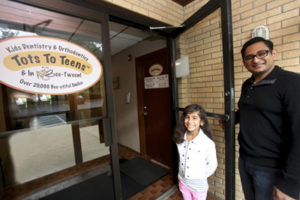 About Office Safety & Sterilization
Our office prides itself on maintaining a clean practice for the safety of our patients, parents, staff, and doctors. All items that enter the mouth are either disposed of or sterilized. Each treatment room is wiped down with a disinfectant between patients. Our office meets or exceeds all state and federal guidelines.
Patient-Centered Office Hours:
Monday – Friday: 8:30 AM to 5:00 PM
Saturday (Every Other): 8:00 Am to 2:00 PM
Fees & Insurance
We are sensitive to the fact that you want a clear understanding of your financial obligations regarding your child's dental care. Our customary arrangement is payment for all preliminary phases of treatment (exams, diagnosis, necessary radiographs, cleanings). Once the doctor has a proposed treatment plan that is best for your child and you, our office staff will review financial, insurance, and payment arrangements as needed. We request you bring any dental insurance cards with you and have all information completed and filled in. Dental insurance usually will cover a percentage up to a maximum per year. Our staff will do all they can to assure that you obtain maximum benefits from your insurance.
Insurance Plan Listing:
We are in-network for the following insurance companies/plans and work with ALL dental insurance companies. *PLEASE NOTE while we work with Aetna PPO, MetLife and Guardian, we are not 'IN-NETWORK' with those groups:
Cigna PPO
Horizon Blue Cross/Blue Shield Traditional
Delta Dental Premiere & PPO Plans
United Healthcare
United Concordia
Americhoice
Principal
Aetna PPO
Met Life
Guardian
Your Telephone Calls
Emergency Visits: Any true life-threatening emergency should be handled by "911" or your local hospital's emergency room. If you need to speak to our doctors, please call our office. The doctor's telephone numbers are listed in our message.
Will You Be allowed In The Treatment Room?
Whether they will be allowed in the clinical area is a very frequent concern of parents. Our dentists usually find it helpful when one parent (maximum two caregivers) is in the clinical room during treatment as a silent observer. Our focus is on your child and we'd rather not have any distractions. We advise parents that if the child sees that the parent trusts the doctor, then the child will also. Please remember we are totally dedicated to helping your child have an easy and enjoyable visit. We will discuss all concerns with you and that is why we normally allow parents in the treatment room.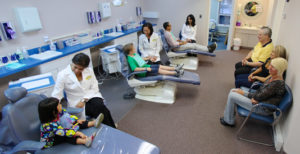 Partnership For Your Child's Health
Total dental health is not only dependent on sound teeth, supporting bone and good occlusion (the bite). It is also dependent on the parent and child's care at home. We need your help to keep your child's mouth free of dental disease now and in the future. We strive to maintain a well-organized recare system for all our patients at regular intervals. Our goal is to maintain a beautiful healthy smile with no discomforts. Together, we will build a beautiful smile and a brighter future.
A Trust Relationship
Our office believes in an open and honest relationship with our parents and patients. Open communication is always best to answer any of your questions or concerns about the best and most proper care for your child. We welcome the opportunity to communicate with you and then be able to provide the optimum dental care.
Thank You!
We thank you in advance for your confidence in Tots To Teens & In-Between. We will do everything in our power to make your child's visits to our office as pleasant and fun as possible.